Canada's Strongest Surrogate Support Network
ANU Fertility helps Surrogate Mothers—like you—through the process of having a child on behalf of a couple desperate to start a family of their own.
Matching You With Intended Parents Of Your Choosing

Book and Co-ordinate All Medical and Legal Aspects Of Your Surrogacy

Surrogate Mentorship So You're Never Alone (What You're Doing Is A Huge Deal And You'll Need Support!)
Surrogate Heather with IP's from France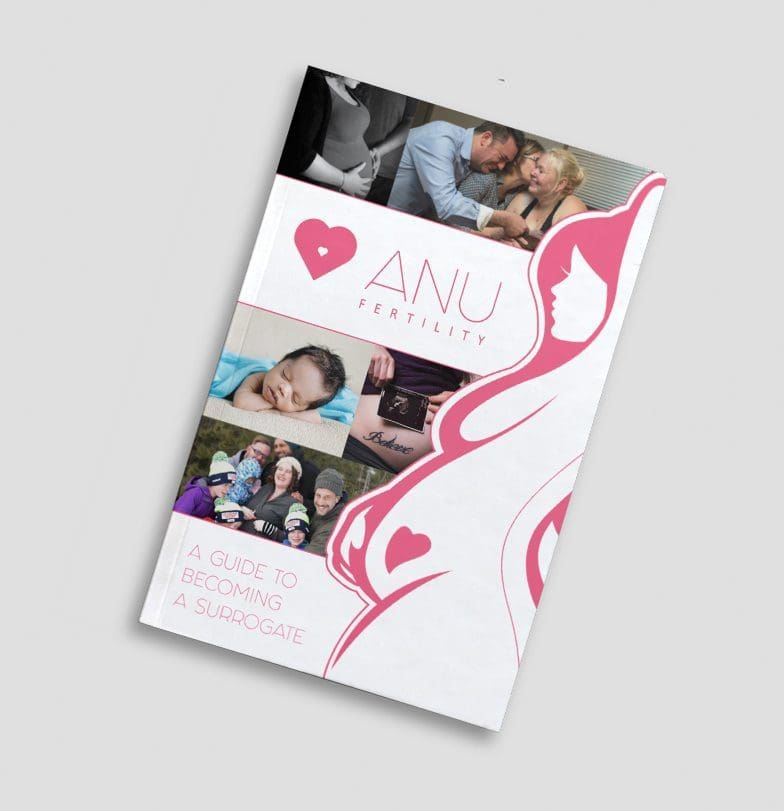 From "I'm Doing It" to "The Doula Is On Her Way!"
Everything To Know About The Journey Ahead
"I Want To Share Everything I know About Surrogacy With You"
– Lorraine Smith (Founder of ANU Fertility)
From "I'm Doing It" to "The Doula Is On Her Way!"
Everything To Know About The Journey Ahead
"I Want To Share Everything I know About Surrogacy With You"
Lorraine Smith (Former Surrogate & Founder of ANU Fertility)
"Why Should I Become A Surrogate?"
You Qualify! – Take the quiz and see if you do.
Easy Pregnancies – Some women are blessed with this, and want to give back.
Empathy – Women with children cannot imagine a life without them.
Compassion – A strong desire to help those who can't have a family of their own.
Compensation – You get a lot in life by giving back.
"I'm Thinking About Becoming A Surrogate But I have Concerns"
How can I afford that? Can I get paid?
It seems complicated, how do I navigate all the medical and legal stuff?
What if the Intended Parents don't show up, will I be left with the baby?
Will I like my Intended Parents? What if they don't match my values?
It seems like an isolating experience, will I get any help along the way?
For Our Surrogates We Promise the Following:
Help negotiate Surrogacy agreement with your Intended Parent, this includes: YOUR FINANCIAL REIMBURSEMENT.
Book medical clinic appointments and organize your legal council if necessary.
Act as a liaison between YOU and your Intended Parent
Help YOU CHOOSE your Intended Parent. (We provide the options, but YOU make the final decision).
Walk alongside you every step of the way with Canada's #1 Surrogate support network!
As fertility consultants our number #1 priority is the health and security of our Surrogates. The gift you are giving is massive and we want you to know that we have your back.
Working With Everyone
unconventional is the new normal
Whether you're a mother of 3 and want to help someone have a baby or a gay couple looking to start a family of your own. There is simply no room in our world for discrimination. With progressive social attitudes and changing social norms—unconventional is the new normal.
With our strong and fiercely loyal network of Surrogates, you'll never lack for support, an empathetic ear, or a lightning quick response to any question—no matter how small.
Brad, Noah (and baby Alfred)
from Australia
ANU Fertility Intended Parent Success Story
"From our first contact with Lorraine and her team until Alfred's birth was approximately one year, which we know is unusually quick but we couldn't be happier with how things have turned out.
We are so happy being parents and Alfred is a constant delight to us.
We are still in touch with Marcy as well, and think of her and her family in Canada as family of our own.
We are so grateful to Lorraine and her wonderful team for doing such a fantastic job and making our dreams of having a family come true."
Surrogate Heather
ANU Fertility Success Story
"As a first-time surrogate, I have nothing but wonderful things to say about ANU Fertility Consultants. They really helped lead me through the entire process of surrogacy. They gave me real answers to real questions and were happy to work with me at a pace I was comfortable with.
My journey was as smooth and memorable as anyone could ask for. Even when things were rolling swimmingly I was never put by the wayside. I thoroughly enjoyed taking part in the close-knit community that ANU holds with their surrogates.
I gained so much more than I ever thought I would going through a surrogacy with such a heartfelt agency."
Meet Aubrey
ANU Fertility Surrogate Success Story
"Being a surrogate is something my heart treasures deeply. Finding an agency that was reputable to assist me through my journey was of the utmost importance to me. Through my journey, ANU was a wonderful source of support and information for me. I am able to trust them with personal information and be confident that the information never leaves ANU.
They were always there to answer questions, offer support, essentially, be in my corner. Having a strong, reputable agency is priceless in the world of surrogacy.
My favourite part though is the group of surrogates with ANU are like a tight-knit family and I can go to them with anything from surrogacy stuff to regular life stuff! We've all become friends and having that peer support has been invaluable to me. It's been fantastic that ANU has provided a safe, secure place for us surrogates to gather info, share stories and become friends. I highly recommend ANU!"
Meet Samantha
ANU Fertility Surrogate Success Story
What makes ANU special from the rest? They don't treat you like a number. They treat you like the very special person that you deserve to be treated like. They help you through all the sticky questions you have don't make you feel silly.
I have nothing but good things to say about all of the ANU employees – Love you all!
When you are apart of this amazing group you have a second family you can lead on.  ANU gives me and everyone a safe and comfortable place to talk. I couldn't recommend ANU anymore.
Samantha
Meet Laurie
ANU Fertility Surrogate Success Story
What makes ANU special to me?
I felt very welcomed and supported when I was deciding if surrogacy was for me.
I was respected and felt valued as I had a whole team of people cheering me on and answering any questions or concerns!
I would and have recommended ANU because the people who make it what it is! It's more than a business, they were my lifeline for over a year – and no matter what time of day, someone was there to talk!
I appreciate all ANU did during my journey and am thankful I had the best team behind me!!!
Do I Qualify
To Be A Surrogate Mother?
Have you given birth to at least one child?
Are you between the ages of 21-45?
If you answered 'yes' to these two questions
then you're already halfway there.